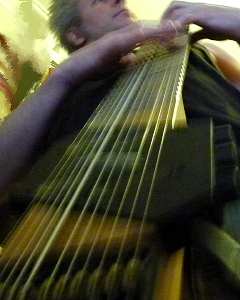 I'm learning a new music instrument here, The Chapman Stick. It's so fun because on the stick you can play both bass, comping chords and melody lines at the same time. The instrument has twelve strings divided into two groups of six and each group has its own set of electro magnetic pickups and output.
The Stick was invented by musician Emmet Chapman in the late sixties to be used by himself as his "custom instrument". However, many folks that heard him play also wanted sticks so Emmet started manufacturing in -74. I feel honored having an instrument actually built by the inventor. Thank you, Emmet!
Here's where you can read more about The Chapman Stick.
Epilogue: Below is a quick video I recorded as a freshman on the Stick. I will soon upload something more exciting, as I'm slowly rewiring brain to improve its skills as the conductor of the "two independent hands" orchestra.