"Something has been missing in Stockholm's progressive nightlife and I'm here to fix that! I want to start a meeting place to show the best underground scene acts that play Electronic Music live. It's gonna be pure passion about electronic music performed on stage with great lights and big sound :-) If you love Big massive soundscapes, Tech-House, Deep House, Drum/Base/Techno:-) Come and enjoy my ride and just dance all night long…!!"

// Tech-Head.
July 3
19:00 (7 pm)
Vieille Montagne
Söder Mälarstrand kajplats 15
Stockholm
SEK 100:- at the door, Cash or Card.
Facebook event page
---
Program – STHLM ELECTRONIC UNDERGROUND LIVE SESSION:
19:00 —> PER BOYSEN
Per Boysen has performed many shows around Asia, Europe and the US – both as a solo performer, in duets and with ensembles. Appearances in general public areas as well as at world famous institutions like the Swedish Norberg Festival, Présences Électronique in Paris and the North Sea Jazz Festival in Rotterdam. He is also active as a media music composer, having produced recordings in several surround sound formats, mixed records for bands and creative remixing for special record label releases.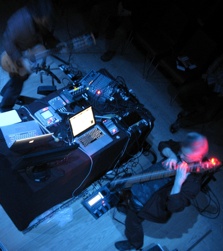 With the Alto Flute and Chapman Stick in focus, Boysen performs simultaneously playing the self-designed electronic meta-instrument that allows instant found-sound cut-up, bringing the classic Musique Concrète methods into the digital era.
–
"Among the many festival highlights was Swedish guitarist and flute/wood-wind player Per Boysen's Jon Hassell-like soundscapes"
(Guitar Player Magazine, USA)
---
20:00 —> I AWAKE
Stockholm based ambient downtempo producer Thomas Huttenlocher aka I AWAKE follows up his digital Ep release [ Birth ] with a full length album [ The Core ]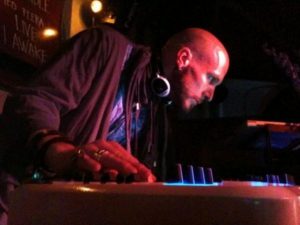 Built as a journey of audio neural beauty through organic microcosms, electronic vortexes, deep, tribal beats and vast soundscapes, the album takes us on a pilgrimage of sounds, with scents of parallel lives, glimpses of the future and overlapping, coexisting dimensions.
A superfine blend of psychedelic spurs, groovy bass lines and catchy melodies composed with the collaboration of Krister Linder, Fredrik Lundberg, Tara Devi and Planet Boelex. As a film soundtrack producer, I AWAKE is one of the key figures of Ghostfriend, a Swedish underground movement of creators with a "peculiar devotion to the present and strong love for the innermost".
For the first time in Ultimae's history of releases, the artwork was created by famous digital artist and designer David Vineïs aka Sub88.
---
22:00 —> TECH-HEAD
Swedish House Music Producer . Drummer from Vasterås that moved to Stockholm 10 years ago. Into all kinds of music style's; House, Deep House, Pop. Have released several trax on labels like: Waako, Blast records, PR Underground,Stockholm records
Teach-Head will be wrapping up this triple acts night with aggressive dance music, all performed live on stage.