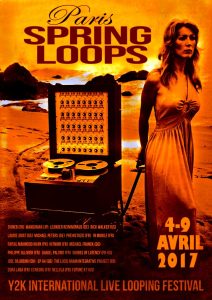 In spring 2018 I will go to Paris to make music on two occasions. June 1-2-3 is the Paris Spring Loops #2 festival. International performers from all over the world will gather to create music utilizing live looping techniques and a small side tour, stretching into Germany, is also planned. Myself, I will be using a Chapman Stick and a black floor-box containing my self-designed meta-instrument of interactive electronics. With these two tools I will make instrumental music based on the following criteria:
1. Cut-up techniques, as in "live musique concrète".
2. Scandinavian folk music, dark and melancholic.
3. Classical music.
4. Improvisational "jazz" attitude.
5. Psalms with a northern vibe.
But I will also go to Paris already in mid-February for just a few concerts. The idea first came up when my beloved Charlotte Riessen was invited to display her visual art at Grand Palais, Salon Dessin. I have loved her art from the first painting I saw, experiencing each piece as a portal offering a look into a parallel world. And of course, the temptation to make myself a transponder for each world's natural sound environment soon grew massive! So I suggested coming along to play music around the exhibition. The idea caught on well with the Swedish pavilion admin and I started to book other concerts in Paris for the rest of the week (gotta eat n sleep indoors, you know :-).
I will play at the Grand Palais, by the Swedish booth, on Thursday 15th at 15:00.
Two other concerts are due on February 17 (Espace en Cours, 56 Rue de la Réunion, 19:00) and on February 18 (Église suédoise de Paris, 9 Rue Médéric, 17:00).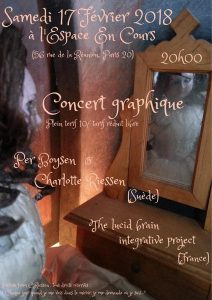 At Espace en Cours, on the 17th, experimentation is a keyword for the entire event. Several acts will perform during the night. Formally, it is a teaser for the upcoming Spring Loops #2 Festival, but I will attend as part of a collaborative installation with Charlotte Riessen. Her Dollhouse images and my live noise may breed or clash on stage and, hopefully, the audience will be led through many exciting portals that night.
At Église Suédoise, five o'clock on Sunday 18the February, there will be me, and my Chapman Stick, performing the church music program that has grown popular in Swedish summer church music programming.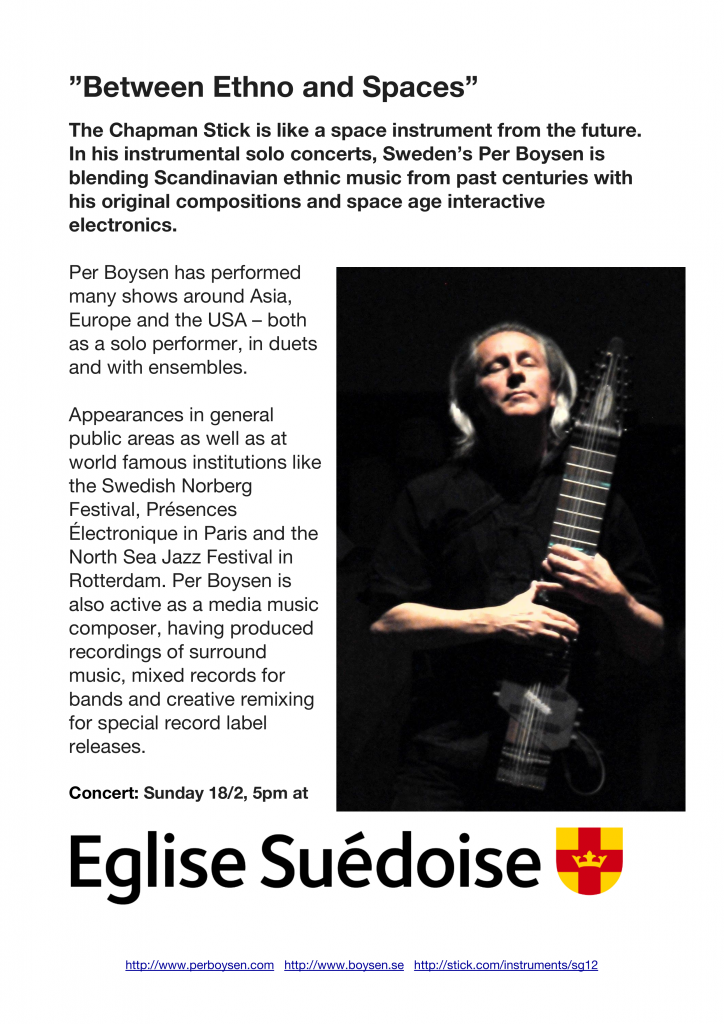 ---